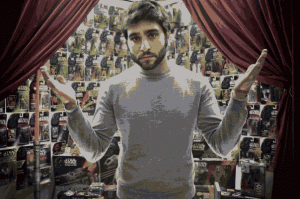 "There's something sweetly tragic about all of Jordan Vogt-Roberts' work. Characters look like fools, take themselves way too seriously, and generally wallow in humiliation. Thus the comedy, even in a few short minutes, is heartbreaking and gut-busting, nuanced and uproarious." – The Onion

Hailing from the ruins of Detroit, Jordan Vogt-Roberts started doing two things at a young age to prepare himself as a director:
1) Dealing with the hassle of a hyphenated last name.
2) Making stop-motion movies in his basement with Lego and Batman toys.
Jordan marshals an extensive background in comedy with a focus on visual storytelling and (at the cost of a personal life) a tireless work ethic for his prodigious credits in television, film, advertising, and on the Internet. His feature film debut, The Kings of Summer, a coming-of-age story starring Nick Offerman, Megan Mullally, and Allison Brie premiered to rave reviews at Sundance 2013 and was picked up by CBS FILMS for release later that year. Kings of Summer appeared on numerous "best of 2013" lists which means maybe it was worth the 10 years it took off Jordan's emotional lifespan.
After relocating to Chicago from Michigan, he created the website Blerds.com with a group of standup comedians, many of whom have remained collaborators. Those video sketches drew millions of views online and led to work with the Chicago ad agency Tribal DDB. They also served as inspiration for the 2012 Comedy Central series Mash Up, which he created, directed, and co-wrote for a full season.
Along the way, he never stopped working – creating short films, web series, and directing episodic content for MTV, Adult Swim, and HBO's Funny or Die. His half-hour comedy short Successful Alcoholic also played at Sundance, SXSW, and AFI. All told, his work has screened and hundreds of film festivals world wide.
Vogt-Roberts has directed branded content for Fox, Sony, Warner Bros., the Sundance Film Festival, and Babelgum, among others. He filmed a series of standup spots for Kotex, Claire Danes for Audi, and Jillian Michaels and Kaitlin Olson for K-Swiss, and his campaign featuring Arnold Schwarzenegger crushing things in his own tank for Afterschool All-Stars generated over 10 million online views and raised $1 million for charity. His work has received a Silver Effie Award.
His concert film Nick Offerman: American Ham premiered at Sundance 2014 and will debut on Netflix, and he directed the pilot and subsequent episodes for the FX series You're the Worst.
>>RANDOM FACT: The first festival at which Jordan took home the grand jury prize was judged by Brett Ratner, director of Rush Hour, which makes his career an indirect byproduct of the fast-talking-fist-flying antics of Chris Tucker and Jackie Chan… a point he has yet to reconcile…